Omni Maricopa Land Acquisition LLC will build three self storage facilities that include outdoor RV storage at 18000 N. Stonegate Road in Maricopa, AZ. The first is a $534,262 project to construct an 8,564-square-foot self storage facility. The second is a 5,596 square-foot facility for $350,085. The third is a 7,996 square-foot facility for $500,230. The work will include a 2,892 square-foot office and manager's quarters for $195,411. The outdoor RV storage facility, valued at $5.6 million, spans 70,466 square feet. In addition, the company will spend $6 million for on-site water and sewer improvements. All work will be done by James A. Campbell Construction.
The Bergen-Lafayette neighborhood will receive a sprawling self storage center after Jersey City's Planning Board granted permission for the project to proceed in an industrial area near Liberty State Park.
Cresskill-based real estate investor Martin Lucibello will construct a complex featuring an array of storage options, an indoor parking garage, and a series of loading docks spread across six stories at 300 Thomas McGovern Drive. The parcel sits just a mile from Interstate 78 and currently contains warehouses, mechanical equipment, and parking for tractor-trailers.
"Standard kind of mix that we would have in these…facilities is anywhere from a 5-foot by 5-foot unit to a 10-by-30 unit of varying sizes," architect Louis Vandeloecht said. "None of these units have electricity in them; they just have lighting that goes into them. And then overall, between all five floors of storage, there's about 2,350 units."
A company with local roots is proposing a 700-unit, self storage facility at Erie Boulevard and Seneca Street in Schenectady, NY.
Diamond Point Development proposes to replace the Red-Kap Sales office and warehouse at 1806 Erie Blvd. with the three-story building. It is also purchasing the vacant lot adjacent to Red-Kap but has no immediate plans for construction there.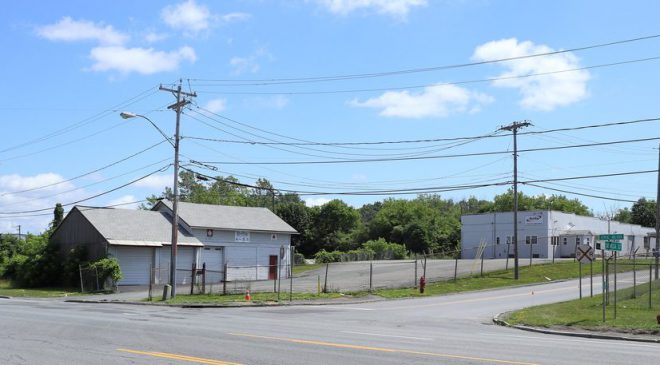 Red-Kap was a long-running fuel distribution company that operated a network of gas stations and convenience stores when it was acquired by Stewart's Shops late in 2020.
Diamond Point principals Aaron and Jason Sommer, Schenectady natives and Niskayuna High School graduates, are seeking to turn a new chapter on the Red-Kap site.
The A. Schrader's Son of Ohio Warehouse at 711 Johnston St. was awarded $250,000 in state historic tax credits. The building dates back to the 1920s with strong ties to Akron's rubber and tire industries. It is where the Schrader Valve, still used in vehicle and bicycle tires, was developed.