Recently, Marcus & Millichap completed the sale of a 55,956 square foot self storage facility in Longview, TX. Within just two weeks of marketing the listing, the team generated ten offers, more than half of which came in at or above the asking price.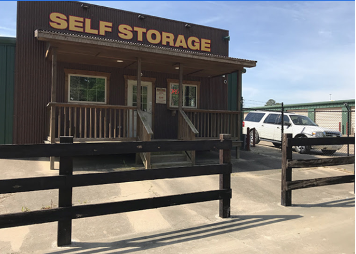 FreeUp Storage I-20 had 10 offers within two weeks
The Facility
The property is situated roughly 130 miles east of Dallas along the I-20 just south of the city of Longview, TX, about 60 miles east of Shreveport, LA. Positioned alongside the I-20, it sits on roughly 5.15 acres and consists of 379 units.


The facility sits on the popular I-20 corridor between Dallas and Shreveport. It is close to a series of reservoirs, including Cherokee Lake which is well known for fishing and other sports.
Market Demographics
Longview is the nearest city and is a vibrant area with year-round festivals and events. While the city has a median household income of $48,000, slightly below state average, the ten-mile radius around this facility has a median household income of over $78,000 making it 30% higher than the state average and 42% higher than the national average. The main college in town is LeTourneau University, which is a private four-year college with an annual enrollment of around 3,000 students and is less than two miles from the facility. Within a three-mile radius, 40% of the households are rental properties.
Demographics at a Glance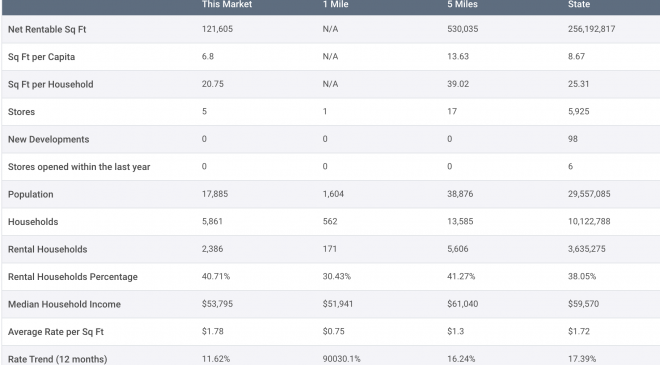 Supply Metrics
The positioning of the facility means it specifically caters to the southern side of the Longview area. Within three miles there are four other facilities, none of which are owned or run by REITs and all of which are self-managed independents. The three-mile competitive radius consists of 121,605 rentable square feet or 6.8 square feet per capita. The national average is 5.93 and the Texas state average is 8.7. Looking at a broader picture of a five-mile radius, the square feet per capita is 13.73 showing a relatively well-supplied market within Longview itself although this area south of Longview is much less supplied.
Three More Data Points
StorTrack's Marketing Scorecard shows that all four competing facilities in the area significantly under-invest in marketing and visibility. Only one of the competitors invests in paid search and none do any kind of social media or reputation management. They do invest in online pricing but are fairly non-dynamic in their pricing approach.
This facility is the only one in a three-mile radius to offer small units (5×5).
In the last three months, average rates in the area have trended up by over 5%.
More Data
StorTrack's MVP platform offers flexible and insightful intelligence on any market in the USA, Canada and beyond. To find out more, simply go to StorTrack.com and click on MVP.