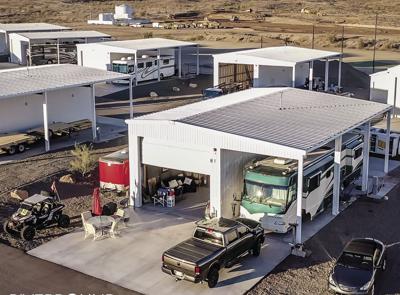 The company that developed Riverbound Custom Storage & RV Park in Havasu Heights is planning a similar project along I-40 near Yucca – but this one will include a professional-quality motocross facility.
Canyonbound Storage Management recently purchased about 102.8 acres located near the Chrysler Proving Grounds – just south of Area 66 on the interstate – from Las Vegas-based companies AZPrime and Mojave HM for $2.5 million. The property is south of Harridge Road and between Alamo and Apache roads.
"Conceptually, it is going to be similar to the Riverbound Custom Storage and RV Park," said Ryan Rodney, the project developer and fund manager for both Riverbound and Canyonbound. "We will have the RV park buildings, the amenities, and all that good stuff. We are basically taking that template and we are moving it to the Yucca location right there on I-40."
Like Riverbound, Canyonbound will also be a custom storage and RV park. According to early conceptual plans for the development, Canyonbound is expected to include 187 "toy box RV spaces." Each space is 66 feet by 66 feet and includes a structure that is 40-feet wide by 50 feet deep. The buildings will include a 20 foot wide enclosed structure with a garage door and a 20-foot wide lean-to that provides covered parking for an RV, along with all the water, sewer and electrical hookups for the rig.
Each of those units will be available for rent or purchase, but Rodney said most of the buildings will likely be sold outright if the Canyonbound project is received the same way that Riverbound has been.
"That gives them a blank canvas to go in and improve the inside of them," Rodney said. "If they are renting it, then they are limited on what they can do to the inside, because they don't have ownership. That is something that we learned just by listening to the market at Riverbound. They are going to buy the unit and have that sense of ownership. They can go in and put their big screen TVs, they can put in their wet bar or mezzanine and kind of make it theirs."
Rodney said these developments are, more or less, a combination of custom storage developments and an RV park.
"We basically have taken two industries and put them together," Rodney said. "This has essentially worked out to be an affordable housing alternative."
Rodney said the infrastructure included in the development can support renters or owners living at their unit fulltime. He estimated that about 20 to 30 of the 100 units in phase one of Riverbound are occupied by fulltime residents.
"We are really excited about it. We feel that it will work out to be an affordable housing alternative for all the tradesmen and workers who commute from the Kingman area into Havasu to work five or six days a week," Rodney said. "This might serve as a nice little staple for the front line worker to hook up their camper or RV and cut down on the travel time. So we will see how that works out."
Rodney said another lesson learned through the Riverbound development has been the importance of amenities. The early plans for Canyonbound have similar amenities including picnic areas, a pool, fitness center, playground, basketball court, pickleball courts and a dog run. But Canyonbound will offer a few perks above and beyond Riverbound.
"We will also have a bar and grill with an observation deck, and we are going to have open RV camp spaces which is something we don't have at Riverbound," Rodney said. "Then obviously, the big one that really sticks out and gets everybody super excited about the project is the motocross tracks."
Canyonbound has partnered former AMA Supercross champion Davi Millsaps with the goal of bringing a state-of-the-art motocross facility to Mohave County.
The project has set aside 30 to 40 acres of the Canyonbound project for three motocross tracks – a kids track, a veteran track for mid-level riders, and a main track for professional-level riders and competitions.
"I think that it will be a magnet for people to stop in and check things out," Rodney said.
Millsaps, who retired from professional Supercross and Motocross in 2017, has been hired to design each of the tracks for Canyonbound.
"Davi Millsaps and his team are going to take years and years of experience in the industry, and they are going to apply that to this design," Rodney said. "So we are really excited about that. There is not a professional track of this caliber anywhere in the area. We aren't going to spare any expense. We are going to do this at a very high level of craftsmanship."
Rodney said ultimately the goal is to create a facility capable of attracting top-level competitors and competitions.
"At some point down the road, we would like to host big time events – professional events," Rodney said. "We are really excited about that. I think that this will definitely accommodate and be a valid option for freestyle riders and motocross riders to come in. We will see how organized it gets, and to what level. But we are going to design it in a way where it could be of consideration for a World Championship or an AMA Supercross event."
Rodney said he worked with the previous property owners to rezone the property for this particular planned use prior to the sale being finalized. The Mohave County Board of Supervisors approved the rezoning during its Aug. 1 meeting.
Rodney said Canyonbound is still working with the county on finalizing the designs to ensure that the development meets all county requirements, but said he hopes to be able to start initial grading work in the first quarter of 2023.
"From there we will get into utility work, which will take approximately six months," Rodney said. "So I would say in the next 12 to 18 months we should see some buildings coming out of the ground and vertical improvements."