This month, we'll evaluate Flower Mound, TX, an unincorporated town in Denton and Tarrant counties.
The City
Flower Mound, TX is a 20,000-acre residential suburb of Denton County, located northwest of Dallas on the shore of Grapevine Lake. It's unprecedented population growth began in the 1950s as a result of job opportunities. In 1966, the population was reported to be 275 and grew to 1,685 by 1970. Despite construction delays throughout the next several years, the city grew to 4,402 in 1980, 15,527 in 1990 and 50,702 by 2000. As of 2019, Flower Mound is estimated to have a population of 76,555.
Market Demographics
The median household income in Flower Mound is $145,141, compared to a state average of $61,874 and is considered to have a low cost of living. Property values are estimated to be $376,400, compared to state and national averages of $172,500 and $196,093, respectively. Rental costs also run high at an average of $1,803 per month, compared to $1,045 throughout Texas and $912 nationally.

Supply and Demand
The city has five facilities, one of which opened within the last year. Despite this new supply, rates have trended upwards by 14.76% and promotion use has decreased by .3% in the past three months. Square footage per capita remains at 3.86 compared to the Texas average of 9.46. Additionally, there are no records of new development in the pipeline.
The rental community consists of 14.14%, less than half the national and state averages of 36.01% and 38.04%, respectively. Additionally, all units are currently being advertised online, which could indicate vacancies.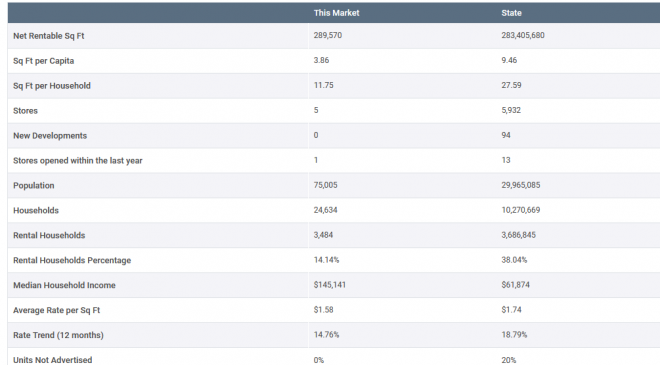 Three Things You Should Know about Flower Mound
Despite recent progress relative to rental rates, trends within the past six months have demonstrated a decline.
Rates per square foot are $1.58, considerably below the national average of $1.91 and statewide average of $1.74.
There are no REITs operating in Flower Mound.
Investing in the self storage industry continues to become more and more competitive and, while there is certainly a need to act fast when acquiring, it is important to take an active role in market research. Evaluating historical data and considering the threat of new supply can be the difference in how successful you are. For more information on this market or others, visit StorTrack.com.